If you are moving within or into a large city (like Toronto, ON) or any heavily populated urban area in Canada – there is a unique set of challenges. The key to preventing hassle and frustration with any move is advanced planning and this rule holds true especially for city moves. Here are three simple hacks to remember when you are moving to the big city.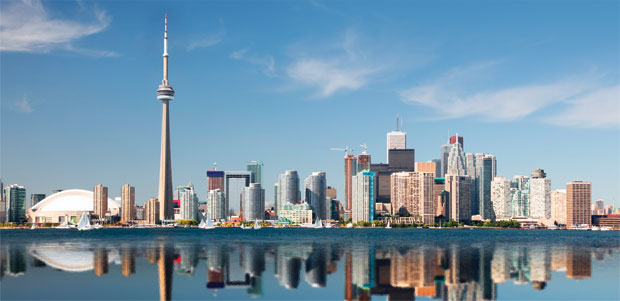 Check your route, the traffic, and street situation
Whether you're familiar with the area or coming in from out of town, it's often worthwhile to plan your route through the city. If possible, do a dry run in advance of your move day. Drive the route at the same time you will on the big day and note the traffic, the streets (alleys, turning lanes, one-ways, etc), and where and how you'll park the moving truck in the neighborhood for unloading.
Navigating your building
Check with the management of your new building in advance. If you're moving into an apartment or high-rise, you'll need to know the building's policies on moving in and moving out. Some buildings require advance notice and many restrict use of the main elevators. You may have to reserve a maintenance or service elevator for a specific time window. If all else fails, you may have to use the stairs. Ask the manager if the building has a luggage cart or dolly available for use.
Big city, small spaces
Take measurements of the spaces inside and outside of your new place. You need to ensure that everything you're bringing with you will fit through doorways, around corners, and in tight hallways. Make sure all large or awkward furniture items will fit in the elevator or in the stairwell.
As mentioned before advanced planning can help save a lot of headaches during your city move. Making sure your neighborhood is a great fit for you, your family and your lifestyle is key to finding harmony and making sure you're able to settle in and feel comfortable in your new home.
About Viktoria Professional Movers Toronto
Viktoria Professional Movers Toronto is a professional moving and storage company operating out of Toronto, Vancouver and Calgary, providing high quality local and long distance moving services throughout the GTA, Southern Ontario and across Canada. Thanks to our country-wide network we are also able to service our clients' long distance moving needs throughout Canada. By helping to educate our clients on topics that can help them plan and execute a successful move, we are fulfilling our directive of taking the stigma out of hiring professional movers, and helping to make the moving process a stress free experience overall. To hear first-hand about our high quality moving services, please visit Homestars page where you can read reviews on our company submitted by many of our satisfied customers.
Call Viktoria Professional Movers Toronto (647) 344-1554 or Toll Free: 1 ( 877) 399-1315 for a FREE Consultation in regards to your residential or office moving needs to and from the GTA and Metro Toronto area.