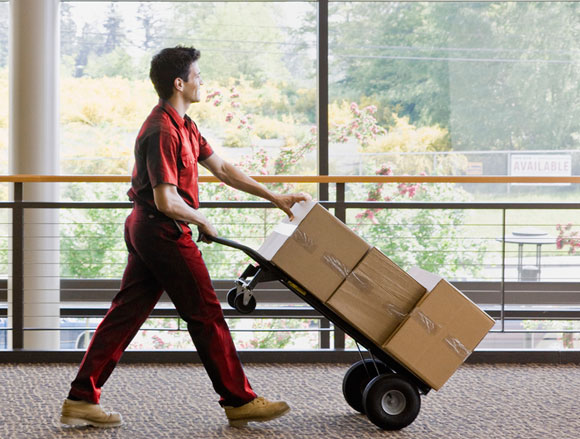 Professional Office, Retail or Warehouse Moving
Full Packing and Detailed Inventory
Systems Furniture Disassembly and Reassembly
Office Moving Toronto
At Viktoria Professional Movers, we've developed a unique approach to office, warehouse, and retail store moving in Toronto that focuses on what our clients value most – minimal downtime, flexible scheduling, and straightforward pricing. Whether you are moving 1 office or 20, we provide a full service approach to commercial moving in and around Toronto that includes:
Full packing and detailed inventory
Equipment and storage bin rental
Systems furniture disassembly and reassembly
Work station disconnection and reconnection (includes computers and network cabling)
Short and long term storage solutions
Full warehouse moving
Racking removal and relocation
Skid moving
garbage and junk removal
We start by assigning a dedicated moving coordinator that will work with you from start to finish. Your coordinator will meet you on-site to provide a free estimate while completing a thorough analysis of your specific needs/challenges during the relocation process. Each industry and each company is unique. By taking the time to understand what is important to your company, we are able to design a strategy that prioritizes the areas most vital to daily operations. We will get you up and running in your new location with speed and efficiency, allowing you allocate valuable human resources where they are most useful – helping to generate revenue. Our goal is to get your employees back to the front lines of your business, while we work in the background to get you organized.
Toronto office moving can have costs that extend beyond the price of the move itself. The most important way we partner with you is to create a plan which minimizes revenue loss and maximizes productivity during the entire moving process. Your moving coordinator will walk you through each step of the process to ensure we are on-schedule and on-budget at all times. Our expert movers are able to problem-solve and trouble-shoot the inevitable challenges that arise during relocation; they are trained to collaborate with our clients to reach quick and permanent solutions.
Remember, the most important element to a successful office move is organization, and this is where we shine. By drawing on our 15 years of experience in both commercial and residential moving, we are able to handle any commercial relocation with professionalism, efficiency, and poise. Last-minute additions or changes to schedules and plans are commonplace, if not expected. By designing a detailed plan for your move with straightforward pricing, we are able to handle these changes/additions with minimal disruption to the process. We can adjust, expand, or change the plan we create for you at any time, and always ensure changes are clearly communicated in writing before implementation to avoid miscommunication.
At Viktoria Professional Movers, we work with clients across the country and across the continent every day to complete successful office and commercial moves. We understand that time is of the essence which is why we provide around-the-clock scheduling for any move. Evening and weekend moves are our specialty and we will work with you to minimize disruption to your daily operations during business hours.
Call us today at 1 (877) 399-1315 or (647) 344-1554 for more information or to schedule a FREE on-site estimate!