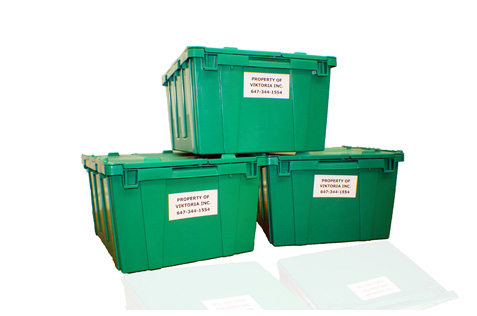 Always secure and protect valuable items
Cardboard & plastic boxes & bins
Specialty transport boxes (wardrobe boxes, etc)
We've Gone Green!
Viktoria Professional Movers is proud to be on the leading edge of our industry by offering reusable plastic moving bins and wardrobe boxes to our clients. By choosing to rent reusable materials you are helping our environment by reducing the amount of paper products used in the moving process.
Call us today at (647) 344-1554 for more information on renting plastic bins and wardrobe boxes for your green move.
Packing Services & Materials
Packing is probably the most stressful part of the moving process. Let the professionals do it for you. We understand that the value of each of your items extends beyond what you paid for it, which is why our professionally trained packers treat your belongings as their own. They will also disassemble and re-assemble your furniture at your request. If you decide on using our professional packing service we will supply all of the materials.
If you decide to pack yourself, we can provide you with all the packing materials you need, including:
Cardboard boxes (in various sizes)
Plastic bins
Specialty boxes (wardrobe boxes, mirror boxes, deluxe artwork shippers, golf bag boxes, bike boxes, lamp boxes, ski&snow board boxes, guitar boxes, TV boxes, etc.)
Packing peanuts
Tissue paper
Bubble wrap
Shrink wrap
Packing tape
Mattress covers
and more!
For more information on our packing services, or to obtain a quote on packing your items, please contact us at (647) 344-1554 to talk with a moving consultant today!