Niagara Falls, Ontario, is a Canadian city and the famous waterfalls at the same name, linked with the US by the Rainbow Bridge. Its site on the Niagara River's western shore overlooks the Horseshoe Falls, the cascades' most expansive section. Elevators take visitors to a lower, wetter vantage point. The riverbank features a promenade and an observation deck atop 520 ft. high Skylon Tower.
Population of Niagara Falls was estimated as 82,997 during 2011 Census.
The city of Niagara Falls has a humid continental climate (Köppen Dfa/Dfb) which is moderated to an extent in all seasons by proximity to water bodies. Winters are cold, with a January high of −0.4 °C (31.3 °F) and a low of −7.8 °C (18.0 °F). Summers are warm to hot, with a July high of 27.4 °C (81.3 °F) and a low of 17 °C (62.6 °F).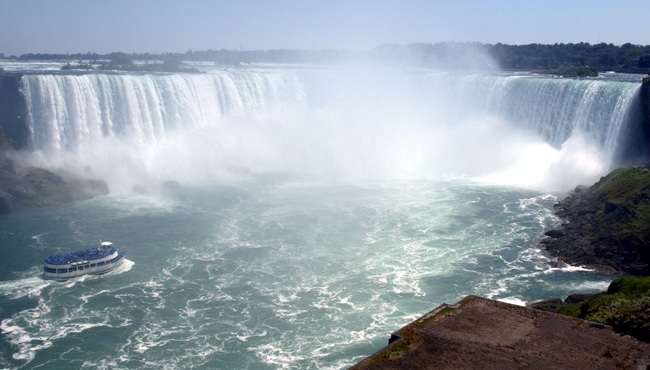 Economy & Employment.
Recent development has been mostly centred on the Clifton Hill and Fallsview areas. The Niagara Falls downtown (Queen Street) is undergoing a major revitalization as the city is encouraging redevelopment of this area as an arts and culture district. The downtown was a major centre for local commerce and night life up until the 1970s, when the Niagara Square Shopping Centre began to draw away crowds and retailers. Since 2006, Historic Niagara has brought art galleries, boutiques, cafés and bistros to the street.
Here is more information on living in Niagara Falls ON: www.niagarafalls.ca

And here's a quick video for you to learn more about living in Niagara Falls ON:
As an A+ BBB accredited Toronto moving company, Viktoria Professional Movers Toronto has moved hundreds of satisfied customers to and from Niagara Falls and across Canada. We offer professioanal local and long distance moving services and can help you whether you're moving to Niagara Falls or moving from Niagara Falls. Viktoria Professional Movers Toronto can coordinate your move to make it as stress free as possible. Contact Us today for a free quote.
About our Company
Viktoria Professional Movers Toronto is a professional moving company operating out of Toronto, Vancouver and Calgary, providing high quality local and long distance moving services throughout the GTA, Southern Ontario and across Canada. Thanks to our country-wide network we are also able to service our clients' long distance moving needs throughout Canada. By helping to educate our clients on topics that can help them plan and execute a successful move, we are fulfilling our directive of taking the stigma out of hiring professional movers, and helping to make the moving process a stress free experience overall. To hear first-hand about our high quality moving services, please visit Homestars page where you can read reviews on our company submitted by many of our satisfied customers.
Call Viktoria Professional Movers Toronto (647) 344-1554 or Toll Free: 1 ( 877) 399-1315 for a FREE Consultation in regards to your residential or office moving needs to and from the GTA and Metro Toronto area.