Moving is a big job and recruiting your friends to help can make the process a easier and more fun (most of the time). To ensure that your friends remain, well, friends, there are two cardinal rules to keep in mind before the move:
1. Make the whole process as efficient and hassle-free as possible. It probably won't be fun, but it doesn't have to be backbreaking or traumatic either.
2. Make your gratitude clear. You don't need to change your will or buy your pals Mini Coopers, but do make them feel good about participating.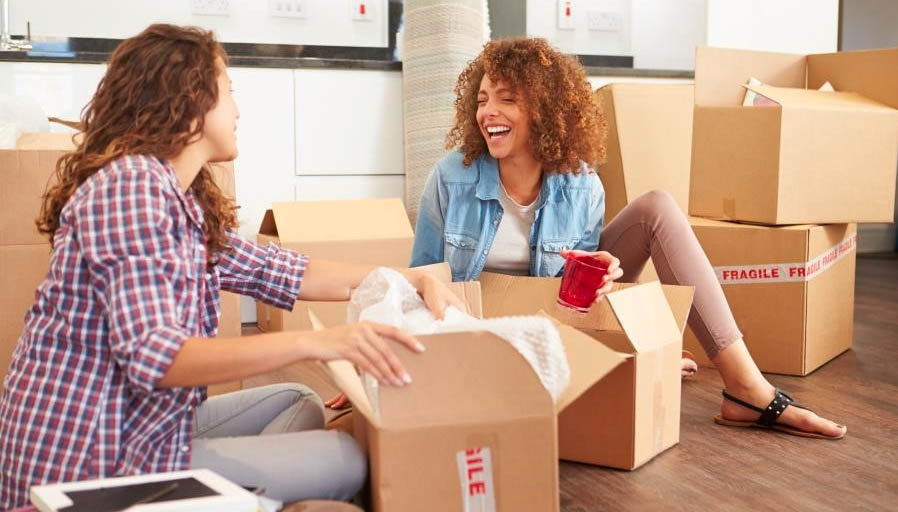 Before you move
Don't: Fold boxes closed to save tape. Your buds will be stuck balancing fragile boxes all day.
Do: Label every box with a coordinating room for easy drop-off.
Don't: Pack a few big boxes with a ton of heavy stuff. You may end up with fewer boxes, but those boxes will be nearly impossible to carry. Why do this to people you purportedly like?
Do: Use medium-size boxes. Experts say they are the best size for simpler moves. You can use a couple of big boxes for bulky but light things such as comforters and towels.
During your move
Don't: Overload your chums' cars with boxes, saving your own for the little TLC leftovers. Nothing says "team spirit" like a four-car pileup because everyone in your convoy was attempting to check their rearview mirror and seeing only a tiny crack between stacks of boxes.
Do: Pay for gas for every driver. Then go further, top off this gesture with a gas gift card they can use down the road.
Don't: Keep promising pizza at the end of the day, like some kind of pot of gold at the end of a rainbow. This is (sorry) cheesy. And you might end up with a mutiny on your hands by 2 p.m.
Do: "Throughout the move—beginning to end—provide good snacks and plenty of drinks," Nielsen says. "Make sure to have plenty of (disposable) plates, utensils, napkins, and cups on hand."
After your move
Don't: Finish the day by telling your friends they should rummage around the cooler for leftover snacks and half-warm sodas.
Do: Deliver them some ice-cold beer, strong mojitos, Starbucks Frappuccinos, or whatever floats your (and their) boat. "When the work is done, deliver a grateful toast, sit back, and relax," Nielsen says.
Do: Take everyone out to a proper meal at a restaurant that doesn't use paper plates but is casual enough for your somewhat rumpled crew. Order lots of apps!
And don't forget the best thank-you of all: pay it forward and help them in return when the time comes.
About Viktoria Professional Movers Toronto
Viktoria Professional Movers Toronto is a professional moving and storage company operating out of Toronto, Vancouver and Calgary, providing high quality local and long distance moving services throughout the GTA, Southern Ontario and across Canada. Thanks to our country-wide network we are also able to service our clients' long distance moving needs throughout Canada. By helping to educate our clients on topics that can help them plan and execute a successful move, we are fulfilling our directive of taking the stigma out of hiring professional movers, and helping to make the moving process a stress free experience overall. To hear first-hand about our high quality moving services, please visit Homestars page where you can read reviews on our company submitted by many of our satisfied customers.
Call Viktoria Professional Movers Toronto (647) 344-1554 or Toll Free: 1 ( 877) 399-1315 for a FREE Consultation in regards to your residential or office moving needs to and from the GTA and Metro Toronto area.